By choosing Car Removals Springvale, people not only get instant cash for removing their unwanted cars, but they also get free car towing and pick up service without any admin fee. All you need is to contact our expert for non-obligatory free quote and then book your car for payment and pick up.
We remove all types of scrap, junk, old, broken or damaged cars and pay cash in exchange. Do you know that letting a vehicle waste away in your garage or at the street is a waste of space and money. If you need an old car picked up for cash, we have got you covered.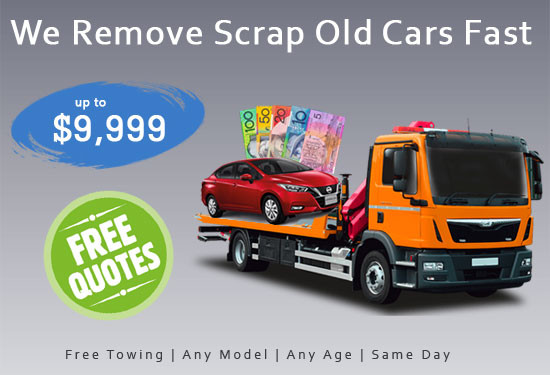 Advantage of Car Removals Springvale
Car Removals Springvale provides free car removal services to locals living around Greater Dandenong. Towing and pick up is always free and there are zero hidden costs or fees to use our services.
We buy used vehicles six days a week. Our friendly tow truck operators can remove customer vehicles from any corner of their house or factory. We can make payment and arrange for the collection of your vehicle which won't cost you a single dollar. So you don't have to worry about anything. Our well trained tow truck operators are equipped with the latest model of tilt and slide tow.
We will happily collect your vehicle from anywhere in Springvale. Our polite and courteous staff can arrange a prompt and reliable collection at a time that suits you.
The Ultimate Need Car Removal Services
Car Removals Springvale helps you remove the car that is sitting for ages. No matter if the vehicle is parked in the street, garage or your backyard our team will remove it for free.
Our team makes all the arrangements for customers to remove their vehicle. With our services you can just sit back and count the cash in your hand while we do all the heavy work of removing the vehicle. Our team works in a transparent manner and there are no hidden costs for removing the car.
How can you arrange a free car removal?
At Car Removals Springvale, it is really easy to book a car for removal. First, call us for free quote. After agreeing to our car evaluation, select a day and time that suits you to remove the vehicle. Our team will come and visit you for final payment and car pick up.
Our Promise to Customers
We are dedicated to provide the hassle free services to our valuable customers. Our friendly team is always ready to help you clear up some cluttered space. Our team is efficient, friendly and reliable.
We help remove the vehicle from any corner of the customer's house or factory. Regardless of your reason for wanting to get rid of your vehicle, we will pay cash for old cars in Springvale and tow your vehicle away.
Our company remove cars for used car parts in Springvale. That is the reason, we pay good money for dismantling all types of cars.
After buying cars, we recycle unwanted vehicles according to EPA auto recycling standards and procedures.
Major Types of Car Removal Springvale
Avail various free car wrecking and removal services by selling your scrap, broken car to us. We offer free towing, collection for all types of vehicles.
We provide a variety of car removal services to our customers in Greater Dandenong.
Old Car Removals Springvale
Get rid of any old car with free towing and collection. It includes all cars that are ten to twenty years old. We pay reasonable money for all those cars.
Scrap Cars Removal Springvale
All junk, scrap and wrecked can be removed by a single phone call. All these cars must be complete for removal. No charges or fees applied. We will come and pay for it.
Damage Car Collection Springvale
At Car Removals Springvale, we can buy your damaged, accident or broken car. Get reasonable money for your car collection. Car must not be on the accident scene.
Car Collection and Service Areas
We make the whole process easier for our customers. We can come to all surrounding areas near Springvale to pick up your vehicle. Just let us know your location and we will come to pick up your vehicle for free.
Our team will come to your doorstep or wherever your vehicle is parked. When you choose Car Removals Springvale you choose a company that offers the best in car removal services as well as vehicle disposal services. We are super flexible and will reach out to you to schedule a pick up time and location that is convenient for you.